RACO is the true pioneer of electric actuators.

The RACO- Electric Actuator ® was invented and patented more than 50 years ago. RACO actuators offer reliable and environmentally safe and economical solutions replacing hydraulic or pneumatic systems.
RACO Actuators are ideal components / subsystems for demanding Automation applications. RACO offers two types of actuators: a high precision Ball Screw and a reliable ACME screw. RACO also offers an electro-mechanical spring loaded brake actuator systems for light rail mass transportation vehicles.
RACO International, L.P. is a subsidiary of RACO Schwelm GmbH and serves the needs of customers in the USA, CANADA and Mexico with its head office in Pittsburgh (Bethel Park), PA.
RACO is an international leading manufacturer of linear and rotating electromechanical systems . We are dedicated to satisfying our customers most demanding requirements.
Our experienced team of engineers and skilled technicians will develop a customized solution for
YOUR Application
and deliver it on time.
For additional information on our company,
the range of products and applications,
please have a look at our 50 Year anniversary brochure
"Precision in Motion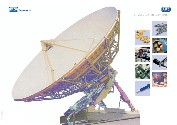 Download "Precision in Motion" Brochure
PDF file - 2814 KB