Switch Set in Lateral D Housing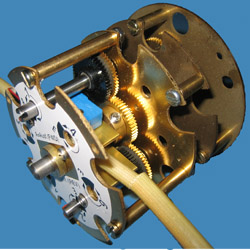 Switch Set with one Pair of adjustable Limit
Switches
It is highly recommended that electromechanical linear actuators be used with end of stroke limit switches or sensors to protect the connected equipment and the actuator. There are a variety of different internal and external mounting arrangements available.
The rotation of the power screw is translated via a timing belt into the switch set. Based on the number of revolutions on the power screw, determined by the stroke of the actuator and the pitch of the screw, an appropriate gear reduction will be selected. An accurate, repeatable, absolute position signal can be obtained via the cam activated sealed micro switches, which are adjustable over the entire stroke length of the actuator.
Switch sets are available with up to 3 pairs of limit switches. This enables the user to assign two intermediate stroke positions in both the forward and reverse direction.
External limit switches, commonly used on the belt driven LM Series of Linear Actuators, are either proximity or snap action switches.
External Proximity Switches for LM 3 or 4