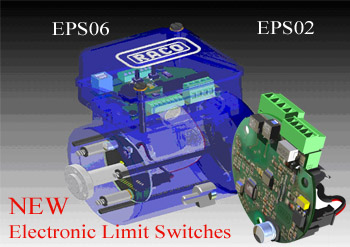 EPS02
One Pair of Limit Switches
No Rotating

Parts
Magnetic Pick-up
Extremely Accurate
RS232 Communication Interface
PC Setup Software
EPS06
Up to Four Pair of Limit Switches
Analog Position Signal 4-20mA, 0-10V
Pulse Width Modulation Output
Includes Functionality of: DMU2 and UPM6
USB Communication Interface
The EPS02 and EPS06 are the newest additions in the line of RACO Limit Switches. The rotation of the motor or screw shaft will be transmitted via magnetic field in a non-contact form to the circuit board. Here it will be converted into 1024 pulses per revolution. The pulses will be counted, processed and stored in non-volatile memory. Even under loss of power the absolute position will be retained.
The EPS02 is the basic version with two independent tiers of end of stroke limit settings connected to relay output contacts (250VAC, 5A). Single or multiple stop points can be defined on each tier. A serial RS232 communication interface allows easy configuration and setup of the limit switches.
The EPS06 is the advanced version, utilizing the components of the EPS02, by connecting the expansion board via a ribbon cable. The expansion board enhances the EPS06 functions to include a scalable analog output signal 4-20mA and 0-10VDC, a pulse width modulation output signal and up to three additional pairs of limit switches. Rotational speed supervision is also possible. The expansion board provides a USB interface port.